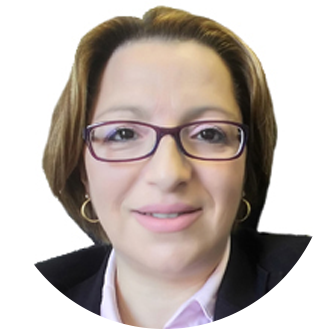 Lulwa Al Hidiq, RCIC
Term Expiry:2020 AGM
First Term
---
Lulwa Al Hidiq is the President and CEO of Altoria Immigration and Business Consulting Inc., based in Toronto. She has been serving both the local and global community as am RCIC since 2013. Lulwa is also a Certified Public Accountant from the California Board of Accountancy, possessing over ten years of professional experience in multi-national public accounting firms both in Canada and overseas with organizations such as Ernst and Young, KPMG, and PWC. During her tenure with these organizations she was an avid mentor and trainer for both in-house staff and to clients on many occasions and on various subject matters.
Having lived and worked in several countries, and having been exposed to myriad cultures, Lulwa has developed a greater understanding of and empathy for diverse people, and has established strong connections based on her firsthand experiences. Such global exposure has shaped Lulwa's life to the point that she eventually left her accounting profession to help others more directly. Originally a stateless Palestinian, she understands the importance of belonging, safety, and stability, and has been working diligently to help resettle refugees from various countries (one of the many services she provides).
Lulwa is connected to her community and especially with social workers and settlement services in various locations. She has been involved with cases involving Women at Risk, trauma, and severe depression due to the unique circumstances surrounding refugees. She continuously strives toward helping individuals attain their dream of working, studying, or permanently immigrating to/resettling in Canada.
Lulwa speaks English and Arabic fluently, and French and Greek semi-fluently (enough to establish a warm connection). Because of Lulwa's global connections, she is frequently involved in fundraising activities and her sought-after services are based on professionalism, trust, and sincerity.
Lulwa is currently an instructor in the Immigration Consultant program at CDI Scarborough Campus. She has served on CAPIC's Education & Training Committee and the National Citizenship and Immigration Conference Committee since 2016. Lulwa also mentors a group of RCICs and volunteers at her youngest child's school in the Booster Reading program, where she helps students develop a love of reading while helping them achieve grade-level reading skills. She reads to students who are below Board or regional averages of literacy measures, and commits one day a week to the program.
Lulwa has two trouble makers and a princess, ranging from 6 to 16 years old, and has a very busy practice. She is passionate about immigration, teaching, and helping others.
Her motto is: "Success is simple. Do what's right, the right way, at the right time." - Arnold H. Glasgow